Via radio, text messaging and the web, Brilliant Pongo ensures precious information reaches his homeland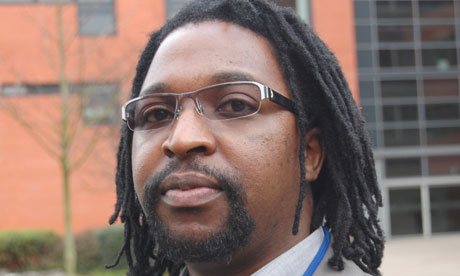 Brilliant Pongo at the University of Wolverhampton
Zimbabwean refugee Brilliant Pongo is putting his PhD into practice, communicating vital news to people in his information-starved homeland.
"Information is power, and this is what Zimbabweans are being denied. It is really, really restricted in Zimbabwe and people need to know what's going on – without that they are controlled by the government and can't react," he says.
Pongo is researching Zimbabwe's media repression for a PhD, after completing a media and communication degree and a postgraduate certificate in education at the University of Wolverhampton.
In his home country, he worked for the Weekend Tribune newspaper before it was shut down by the government in 2004 for being too negative, and as a producer and presenter for the Zimbabwe Broadcast Corporation.
"I was invited to be on a panel on the radio. The manager liked my voice and gave me a job," he says. "I was writing on newspapers and doing radio programmes while things were changing in Zimbabwe. Tensions were rising.
"I was talking about what people were saying about the government, but hadn't envisaged the problems I ended up having. I thought we had freedom of speech and this was a general commentary on what was happening in the country."
Pongo had, however, put himself in danger. Colleagues were being arrested and tortured, and Pongo fled to the UK four years ago. He cannot return for fear of imprisonment and now lives with his wife and three-year-old son in Wolverhampton after being granted political asylum.
But the 31-year-old is determined to reach people in Zimbabwe and keep them informed through news updates, despite the government's efforts to block them.
He hosts shows on the London-based
SW Radio Africa
, broadcasting to Zimbabwe and takes calls from "citizen journalists" about what's going on in the country.
The Zimbabwean government jams the signal in certain areas, but Pongo and the rest of the team text the latest news updates to thousands of their listeners.
The education system in Zimbabwe has become "dilapidated" he says. "Only 20% of the workforce is still in place, and schools are not functional. Children go to school to play but aren't learning anything - 2008 might be a forgotten year in terms of education."
"Almost half the population have left Zimbabwe. It's a huge brain drain, because most of the people who leave are qualified, educated, highly skilled people who can afford to do so. If we want to try to reconstruct Zimbabwe, we need to involve these people in the diaspora," Pongo says.
He has set up an online entertainment
website
to keep exiled Zimbabweans all over the world in touch with the country's culture, music and films, to celebrate these things rather than focus purely on the political situation.
"I want to show the positive side of Zimbabwe," he says. "Sometimes we tend to get mixed up and think it's a bad country but it's not, it just has bad leaders. It is a beautiful country, and I hope to return one day. Like so many who have left, I am getting an education that will benefit us all in the future."
Brilliant is one of more than 200 students from Zimbabwe studying at Wolverhampton.
FROM HERE.....