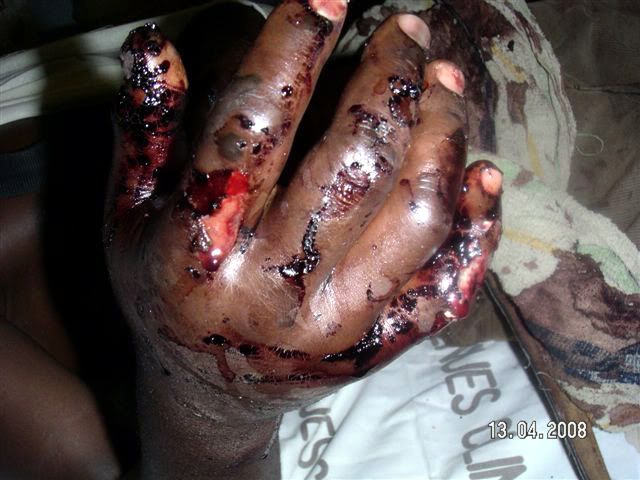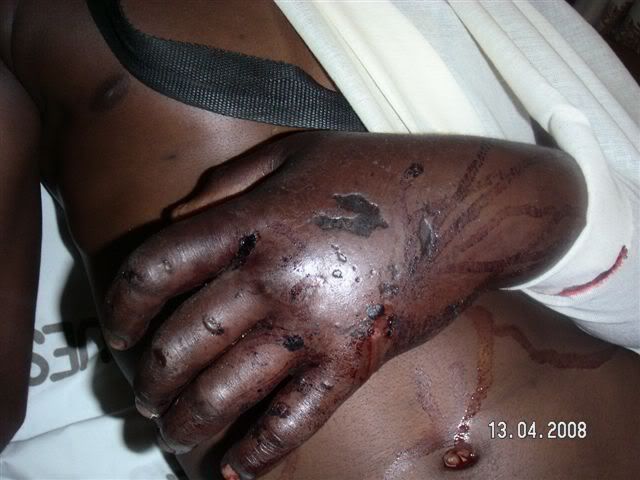 Here are a couple of pics of just what happens to people in Zimbabwe that vote for freedom....take these pics and e-mail them to people who you think will make a difference......

22/04/08......this is a message from zanu pf to the people of Zimbabwe.....the ''ugly one'' is the leader of the MDC ......


A LOT OF ZIMBABWEANS ARE GOING TO DIE SOON AND YES THE UGLY ONE NOW WILL NEVER ASCEND!!... THE WOUNDS ON BOTH SIDES GROW BIGGER EVERYDAY. TAKE IT FROM ME THE ORDINARY PERSON IS NOW GOING TO REALLY SUFFER, BUT MDC LEADERSHIP WILL MOST LIKELY PAY WITH THEIR LIVES BEFORE ANYONE COUNTS TO TEN, THEY WILL NOT BE ALLOWED TO RULE NO MATTER WHAT BRITAIN AND ITS FRIENDS SAY!!

ITS BACK TO WAR MY FRIENDS, AND I KNOW FOR A FACT MAGANDANGA WILL NOT BLINK UNTIL THE UGLY ONE IS NEUTRALIZED AND WITH HIM THE WESTERN NEO COLONIAL AGENDA ON THE COUNTRY!!!

THIS IS NOT A DEBATE!!, AM JUST TELLING YOU, SO THAT THOSE THAT ARE SEEKING ASYLUM DAI MATOMHANYISA MAPEPA NE WINDOW OF OPPORTUNITY IYI NEKUTI VARIKUUYA VAMWE VAINEMAVANGA VAGOSVIKOKUJAMBAYI MUMUTSETSE!!!